Hauling Hay Has Never Been Easier.
Safely hauling small squares on flat bed trailers has never been easier. Haul small squares tight, safe, secured front to back and side to side! Our Pin On Mounted, Removable, Squeeze Racks with
4 Pre-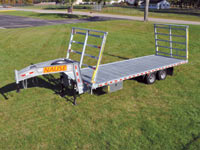 positioned 2″ Nylon Straps allow one person to secure small squares tight and safe in about five minutes, without your feet ever leaving the ground. Positioning of the folding racks can easily be controlled with the ratcheting turn buckle!
LIFETIME ® HAY WAGONS
Lifetime® Hay Wagons are built entirely from steel. After fabrication, the entire bed is hot dipped galvanized, a coating that "will not rust". Lifetime® Hay Wagons are offered in a Heavy Duty Model measuring 8′-6″ wide available in lengths from 14′ to 32′ and a Regular Duty Model measuring 8′-1″ wide available in lengths from 14′ to 20′. Compatible with all standard running gears. running gears are available as an option.
JR. LIFETIME® WAGONS
Jr. Lifetime® Wagons are not just a wagon, they are multi-purpose. Ideal for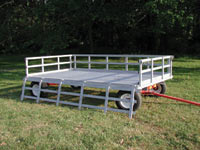 produce growers, pumpkins, firewood, feeding hay, greenhouses & hayrides for the grandkids.
Available in sizes 5′ x 8′ or 6′ x 10′. Jr. Wagons come standard with stake pockets and rub tie rail on all sides. includes 18″ high stake side kits, rear hitch, and 2 ton E-Z Trail running gears with 20.5 – 5 x 10 tires.
Options available,
Reflective Tape
Rear Steps
HOELSCHER SMALL BALE SYSTEM
The small bale system. The HOELSCHER bale accumulator and forks allow one man to handle small square bales quickly and efficiently without manual labor. Bale Flat or Hilly Terrain
One Machine (9) Bale Packages.