Hauling Hay Has Never Been Easier.
Safely hauling small squares on flat bed trailers has never been easier. Haul small squares tight, safe, secured front to back and side to side! Our Pin On Mounted, Removable, Squeeze Racks with
4 Pre-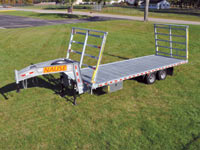 positioned 2″ Nylon Straps allow one person to secure small squares tight and safe in about five minutes, without your feet ever leaving the ground. Positioning of the folding racks can easily be controlled with the ratcheting turn buckle!
LIFETIME ® HAY WAGONS
Lifetime® Hay Wagons
are built entirely from steel. After fabrication, the entire bed is hot dipped galvanized, a coating that "will not rust".
Lifetime® Hay Wagons
are offered in a
Heavy Duty Model
measuring 8′-6″ wide available in lengths from 14′ to 32′ and a
Regular Duty Model
measuring 8′-1″ wide available in lengths from 14′ to 20′. Compatible with all standard running gears. running gears are available as an option.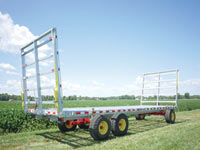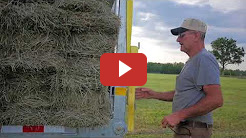 Horst Running Gear Information
Common Mounts



HOELSCHER HAY ACCUMULATOR
The small bale system. The HOELSCHER bale accumulator and forks allow one man to handle small square bales quickly and efficiently without manual labor. Bale Flat or Hilly Terrain
Operator's Manuals, Parts Books and Videos

1000 Accumulator (SN 02857 – 05315)

1000 Accumulator (SN 05316 – 05427)

1000 accumulator (SN 05427 -Current)

1000 Accumulator – Instruction Control Lever & Detent Video
One Machine (9) Bale Packages.
Push Over Arm Retro Fit Kit (Rev. 2-1/1/2020) product guide (PDF)
Accumulator Updates, By G.L. Nause Co
HOELSCHER COMMERCIAL PRODUCTS
Compact size, industrial quality and heavy weight describe this line of construction equipment from Hoelscher Commercial products.